The Principle of Mystery! Free Energy secret revealed!
The Principle of Mystery! Free Energy secret revealed!
471 Views
Last Post 27 July 2018
Topic Is Solved
OK Folks, this is the one that everyone has been waiting for.

Vidura
posted this 23 July 2018
Hi mrblobby I'm glad that you are still alive!☺ As all your previous posts had disappeared I was worried about you.Regarding the video I could not see much still, as the internet connection is very unstable, and a guess we have to be patience until a translation can be made. Thanks for sharing.
Chris
posted this 23 July 2018
Hey MrBlobby,
Well, this is great! Thank You so much for sharing!
I have never seen such a detailed study of the BTT, Ruslans videos were very good, and very helpful, but this is next level!
@Sergej Panov - Thank You so much for sharing your excellent Videos!
Chris
mrblobby
posted this 26 July 2018
- Last edited 26 July 2018
Sergej Posted today,- "ENGLISH: Basically if you look at the schematic that I show in video #9, those 2 relays play a role in turning the AC line on and maintaining it after you remove the battery. Buttons Start/Stop turn on and turn off the AC line. The device has unnecessary schematics and play no role whatsoever in generating of free energy as claimed by Kulabuhov. Fans spin, LEDs shine, Tesla works, it all looks real and works but the real energy comes from under a hidden wire that Kulabuhov had hidden under the neutral black thick cable(as seen on the video) that ran from his device to the ground. The ground markings on the black cable indicate that underside of them was loose because it housed an AC line. Basically Kulabuhov scammed people and myself for years, he sold me a free energy device that was rigged to work from AC line and deceived me, I had enough evidence to take him to a civil court and won all my money back - he didn't even show up in court to stand by his free energy claims."

Very Disappointing. But at least now we can all stop chasing Ruslans rabbits down holes.
Jagau
posted this 26 July 2018
Hy mrblobby
Thank you for your honesty.
Do you mean it is same thing for ruslan flashlight witout battery or it is just for the BBT ??
Jagau
D
Hi Jagau,
I don't know that it has much to do with me being honest, I'm just reporting back to you guys what Sergei posted this morning.
re: the flashlight, I don't know. To me it just looks like a very efficient joule thief, with maybe the addition of a bucking coil. I think Chris could speak with much more authority on that subject than I.

All we know FOR SURE now it that Ruslans Kapanadze replication was and is a very clever con job.
I'm going to be putting all my available time and energy into Don Smith and Tesla.

Vidura
posted this 26 July 2018
Hi Team!
I already had suspected when I saw the Cartoon on the video. It's a sad fact that there are many people are scamming and making faked videos and demonstrations, but we have to deal with this. It?s a good point mrblobby to concentrate in persons and devices where it can be presumed that they are truth. Another thing i was thinking about what would happen if anyone just would reveal a plan or schematic how to construct a free energy device with all details, wouldn't loose the work and research done by all of you and many more persons loose some of it's value? Would the research going on with the same fervor? I just mean if all this effort will lead finally to comprehension of the principals it will be of great benefit's for future knowledge and technology, and will be gained by the work done by all of you.
I'm not quite sure where this story is going, I thought that Sergei's last video had put an end to Ruslan's claims, I'll keep one eye on this and see how it develops and post anything else that I find.
Wesley from youtube channel 'stivep1' seems to think that there maybe more to this than meets the eye,
p.s. a suggestion if you're going to watch the video, set the playback speed to .75 i's a bit had to understand otherwise.
Your Support:
More than anything else, your contributions to this forum are most important! We are trying to actively get all visitors involved, but we do only have a few main contributors, which are very much appreciated! If you would like to see more pages with more detailed experiments and answers, perhaps a contribution of another type maybe possible:
The content I am sharing is not only unique, but is changing the world as we know it! Please Support Us!
Thank You So Much!
Start Here: Help with using the Forum.
The great Nikola Tesla: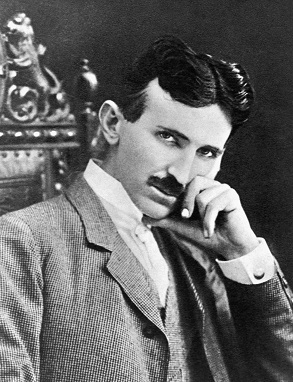 Ere many generations pass, our machinery will be driven by a power obtainable at any point of the universe. This idea is not novel. Men have been led to it long ago go by instinct or reason. It has been expressed in many ways, and in many places, in the history of old and new. We find it in the delightful myth of Antheus, who drives power from the earth; we find it among the subtle speculations of one of your splendid mathematicians, and in many hints and statements of thinkers of the present time. Throughout space there is energy. Is this energy static or kinetic? If static, our hopes are in vain; if kinetic - and this we know it is for certain - then it is a mere question of time when men will succeed in attaching their machinery to the very wheelwork of nature.
Experiments With Alternate Currents Of High Potential And High Frequency (February 1892).