hei guys, the following is my own original writing, and is more practical than you may think at first! You will especially get the idea when you see the illustrations.

====================================================================================
Apparatus and Method for Extracting Gravitational Energy from a Defined Space.
According to earlier researchers (e.g. Vallee*) there exists an amount of negative potential gravitational energy in any given volume of space (air) on the earth's surface, which is not at all dependent on mass, but dependent only on local gravitational acceleration (g) and the volume of defined space in question:
- "We are thus constrained to admit that the matter vacuum must contain, actually, an important quantity of diffuse energy having a finished density p0 in interstellar space. A simple calculation shows, indeed, that one cubic meter of empty matter space on the surface of the ground contains, in the form of energy diffuses 57.000 Mega joules less than one cubic meter of interstellar space. It is thus well necessary that this energy exists, whether it is in this form or another!..." (- g2 /8π G)
Taking this at face value, a volume of 1 cubic centimetre would then contain 5.7 x 1010 x 10-6 or 5.7 K-Joules of such potential energy. It must be emphasized that such energy is inherently in a negative (or possibly inverted) state and to be utilised, would need to be activated, resonated and extracted via a cascading of impedances, keeping in mind that the universal impedance of free space (Z = 377 Ohms) still exists within vacuum or air. If such an amount of energy were to be resonated at (say) 7.83Hz (the earth's Schumann Resonance), then the potential Power Output (in the frequency domain) would be:
(2.π.f) En = 6.28 x 7.83 x 5.7 x 103 = 280 KiloWatts
(since Power = the instantaneous rate of change in Energy) and if the Impedance (Z) were engineered down to 377Ω as well, and so likewise the available Current and Voltage Output would become:
I = √(P/Z) = √[(280/377) x 103 ] = 27.3 Amps and V =√(P.Z) = √[(280x377) x103 ] = 10.3 KVolts, if it could be converted as such.
-------------------------------------------------------------------------------------------------------------------------------------------
Lower frequencies are much preferred for practical purposes anyway, and in any case, ELF (aka prof. Fran de Aquino) is recommended as an initial trial input signal, or even step inputs, in order to carefully monitor the output effects.
Without delving into further technicalities, the proposed excitation pulses could be expected to produce an output at right angles to both the applied E and H fields but in parallel with the solenoids used for said excitation, as the E & H field begins to precess or gyrate under the influence of the applied input signals. Such an output of rotating or gyrating magnetic fields could well be syphoned off via similar solenoids (conical or otherwise) placed orthogonally. See original figures below/attached.
(since improved on!)
==========================================================================================================================
written circa 2012, but substantially re-edited in May 2019 A.D.
G.M.R.
Main Reference: http://jlnlabs.online.fr/vsg/synergetics.pdf
Rene-Louis Vallee - THE ELECTROMAGNETIC ENERGY, MATERIAL AND GRAVITATIONAL (1970)
The basis of Synergic theory - see p. 86 - http://www.rexresearch.com/vallee/vallee.htm
Rene-Louis Vallee - THE ELECTROMAGNETIC ENERGY, MATERIAL AND GRAVITATIONAL (1970)
The basis of Synergic theory - see p. 86 -
Hagelberg, P. Physics, an Introduction..., Prentice Hall, 1973, page 622
http://www.zpenergy.com/modules.php?name=News&file=article&sid=117
----------------------------------------------------------------------------------------------------------------------------------------------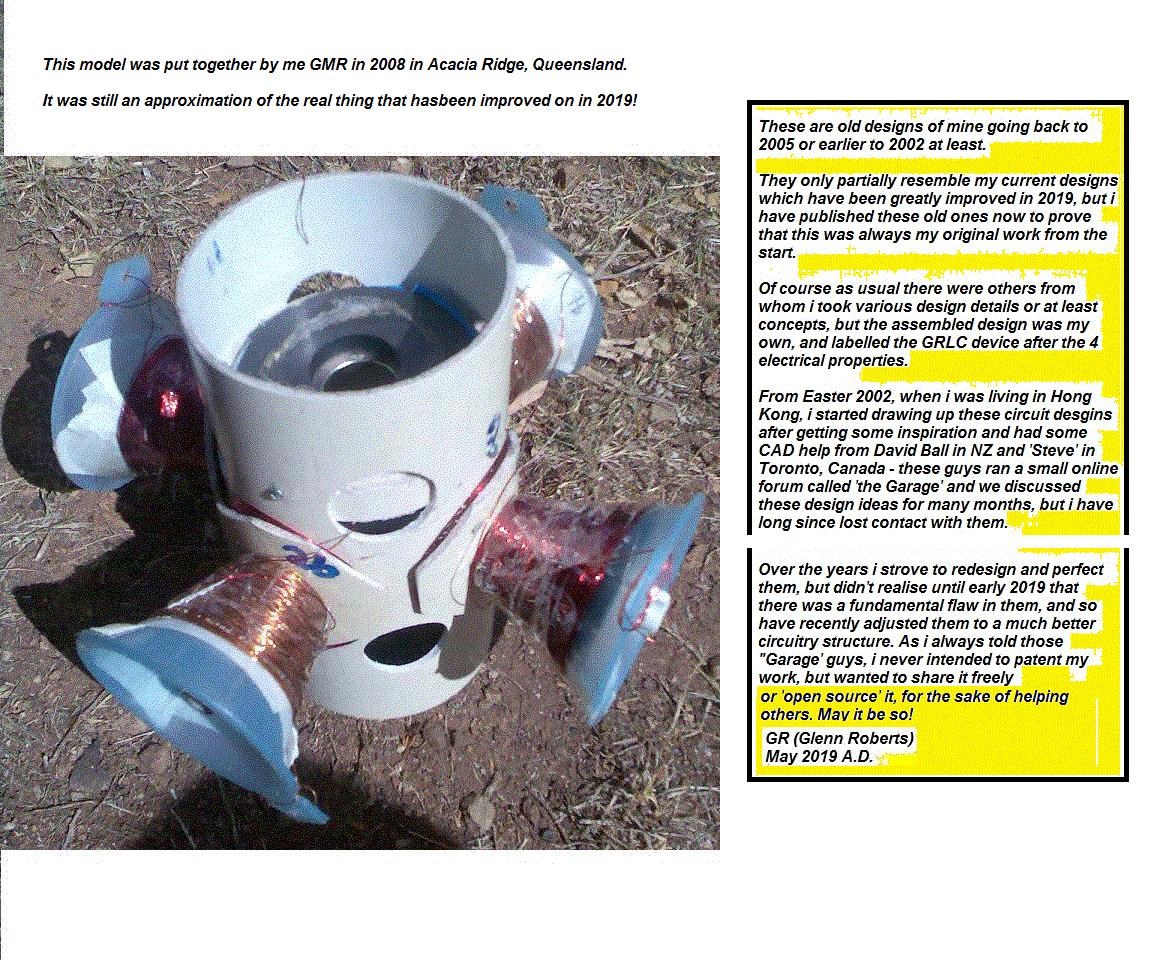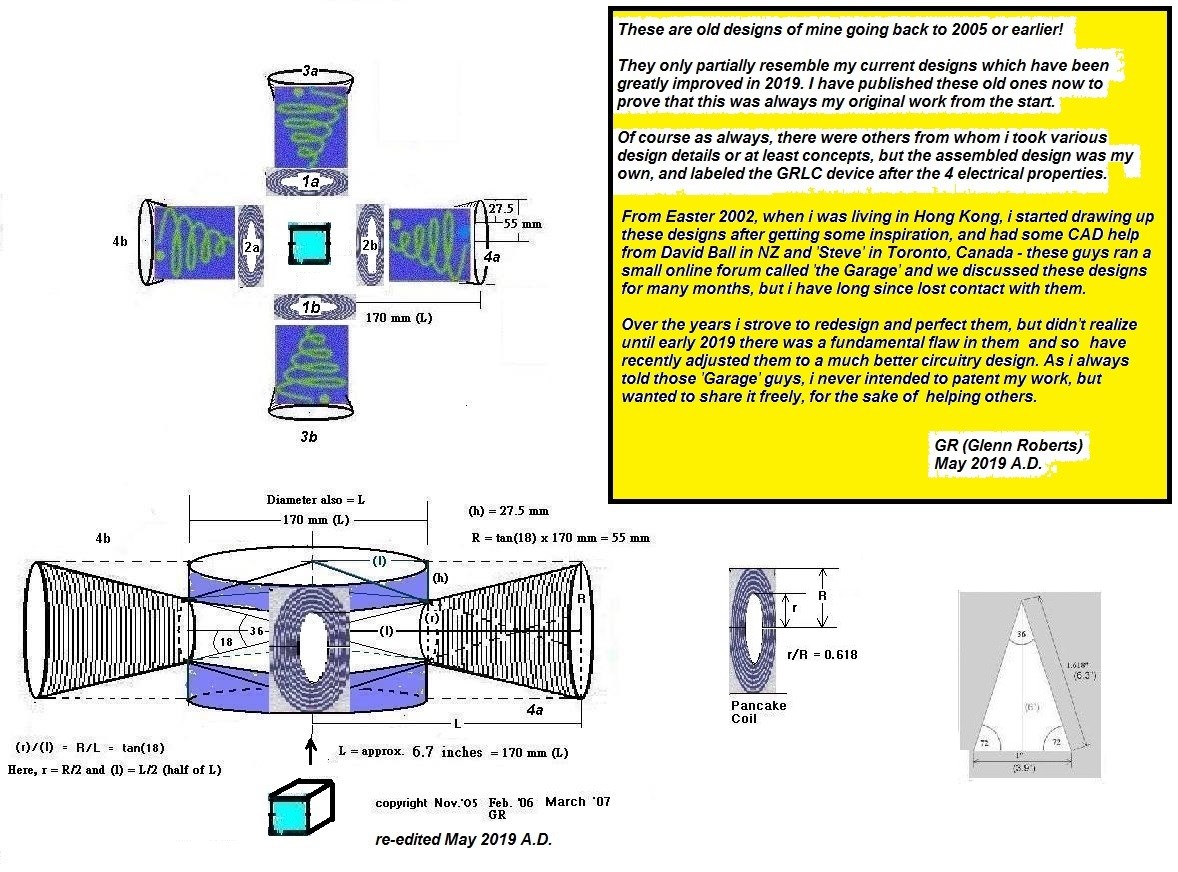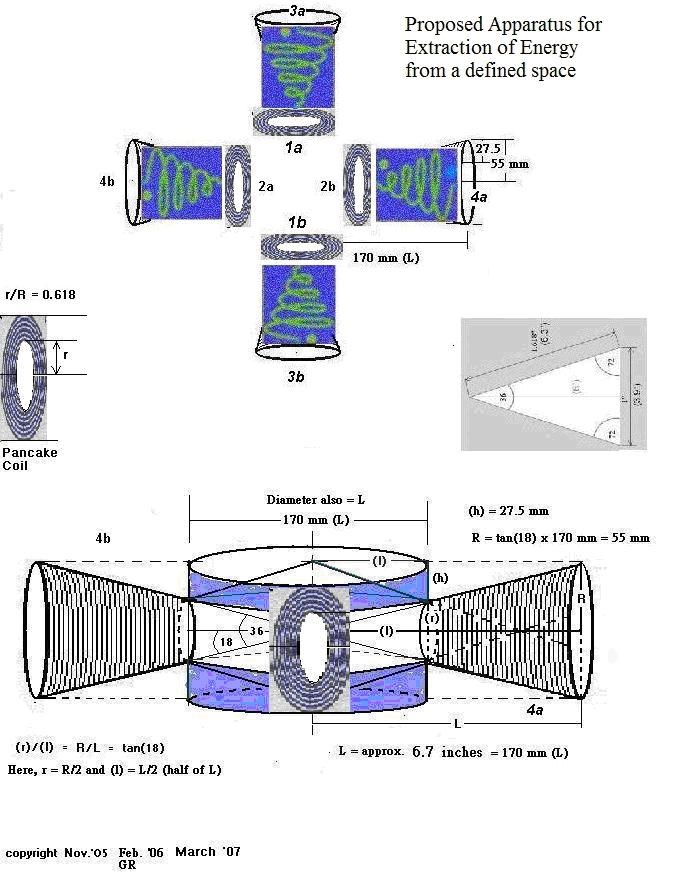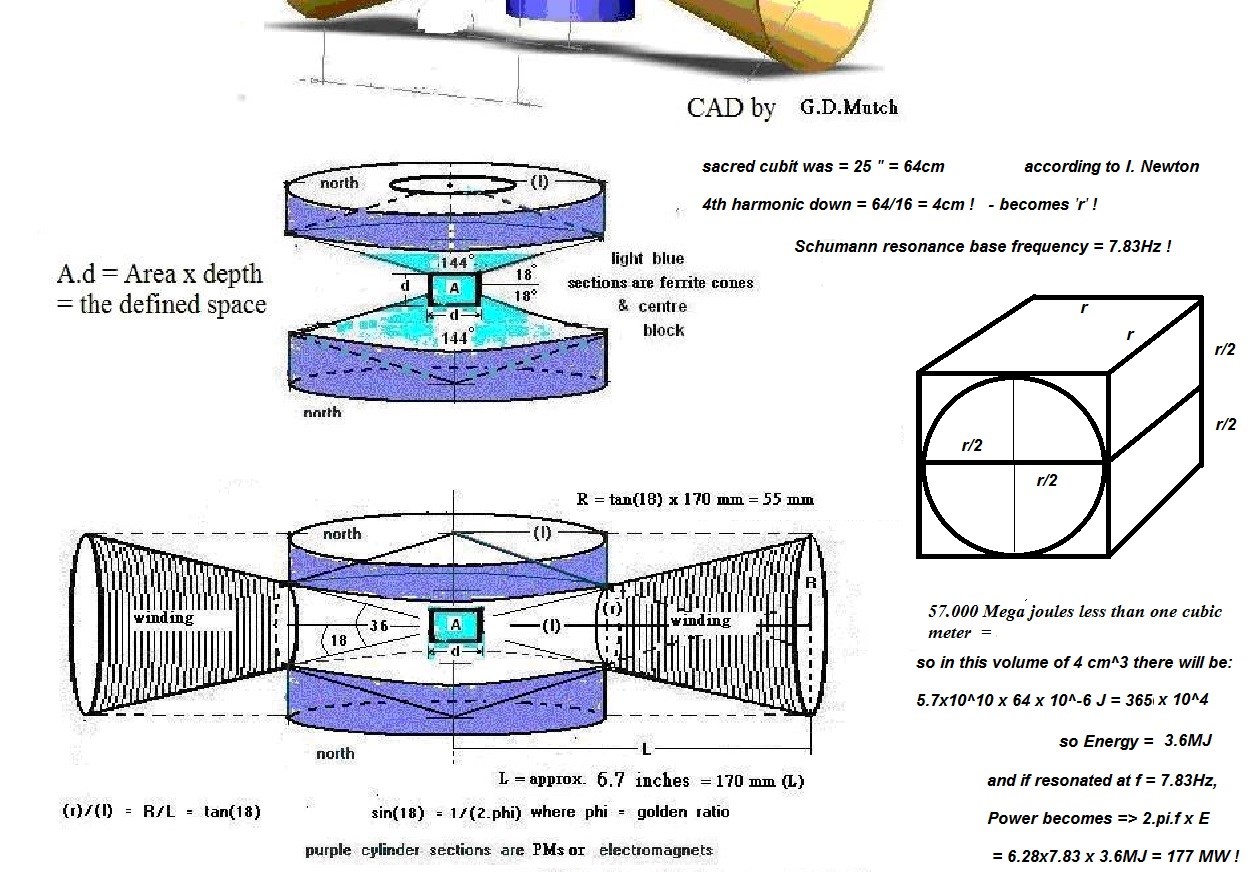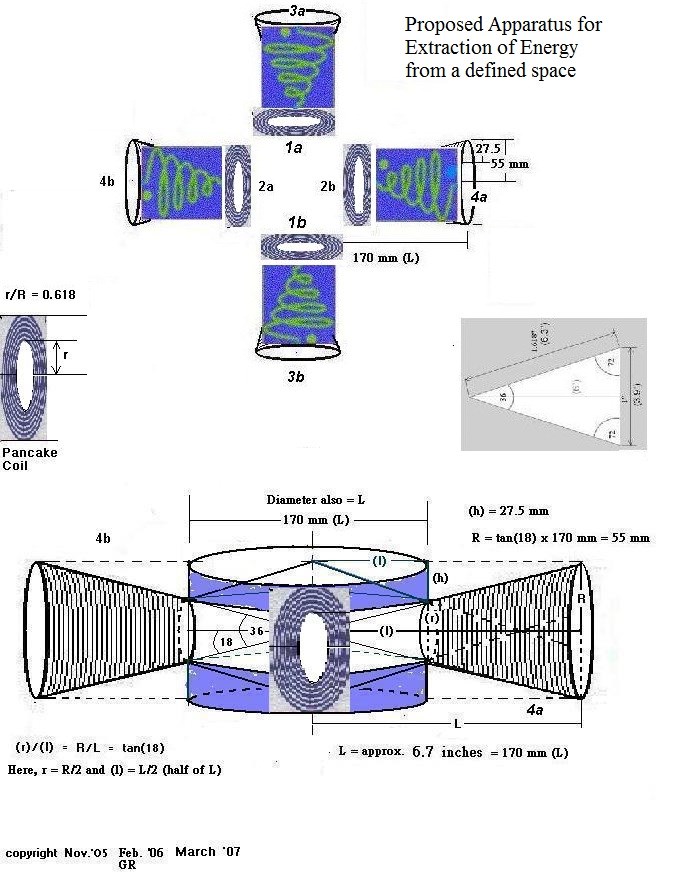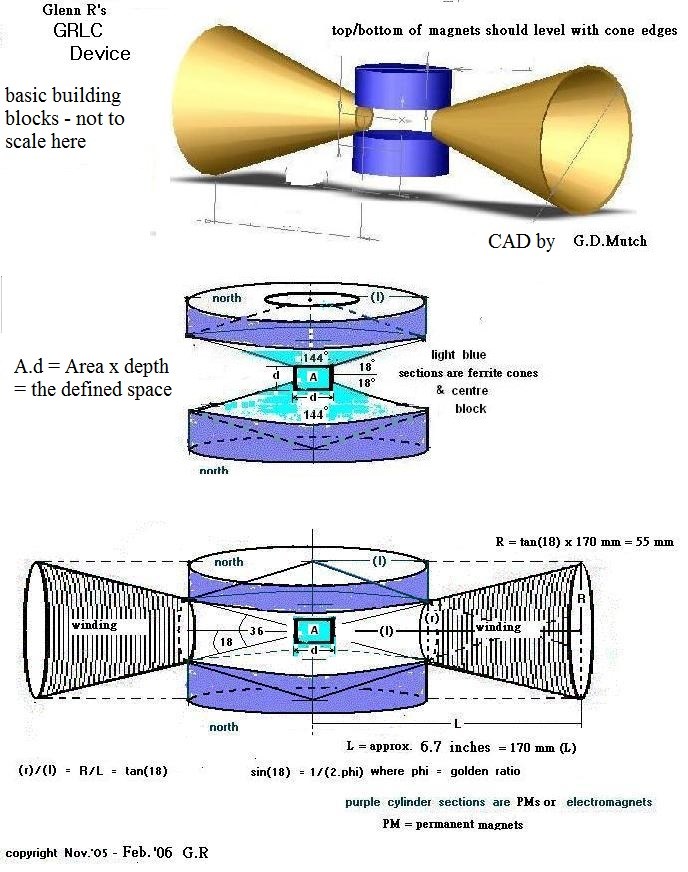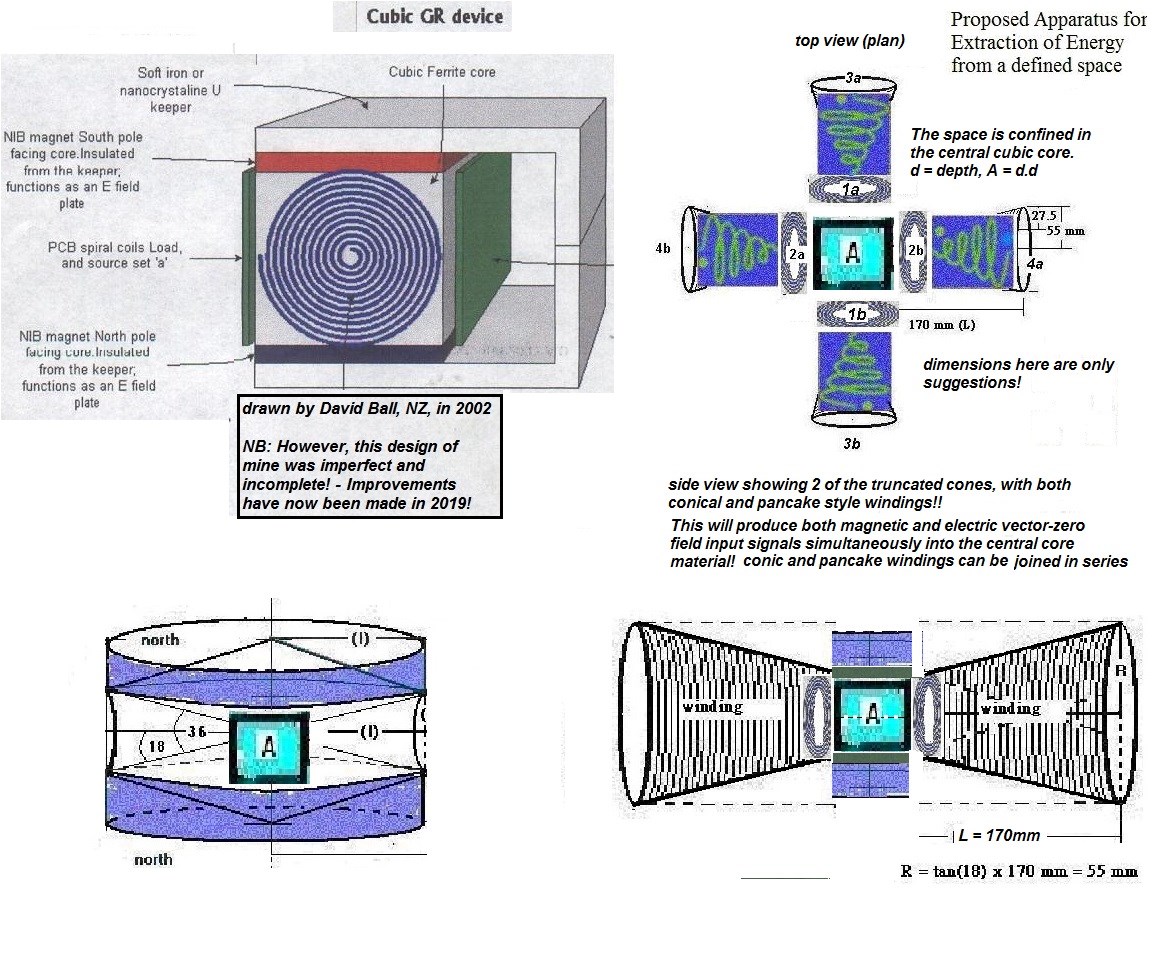 Visualize the Shape of Things Not Yet Seen with Eyes !! ... .. .