I've been playing around with a system for the last few days that involves Lenz free power transfer. I'm not entirely sure where it is leading, but I've made a few observations. It is not a traditional transformer as the power output by the system is not proportional to the input. However, it is also not clear at this point whether such a system can be even 100% efficient much less OU. Nevertheless it is very interesting to play with and may be unexplored territory for new innovation.
Here is the basic pickup coil: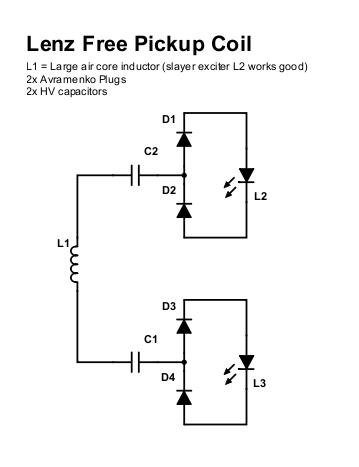 This would be the secondary of the system, the primary being anything you want. I used both the L1 from GBluer's slayer exciter kit which works well, and I also stuck a MrPreva in the center which worked very nicely.
To get the most out of the system your primary will need to be frequency adjustable. Diodes can be anything that works well with Avramenko plugs. Capacitors should be high voltage. The system acts as a potential pump converting what needs to be many thousand volts of potential into work. An air core is not strictly necessary, so a MOT can also be used. I've not done much testing with this but basically any system that can produce large voltages and can be tuned to a nice resonant frequency will produce power with minimal draw on the primary.
This is made possible because no current (or perhaps very little) flows through the secondary. Should the two ends of the secondary be joined current will flow and the potential will collapse.