Good Friends, Well for some years now, I have been observing and trying to replicate some projects about FreeEnergy, to try to understand and try to separate the real from fiction, the big problem, is that not everyone gives much information about the origin of their works, so it is difficult to go to the source of everything and be more accurate in the conclusions when one tries to replicate.
After working with power transmission replicas by 1 driver, which you can see on my channel the youtube
Video 1: /watch?v=6Z_q6LkmPis
Video 2: /watch?v=4XnVySuFJRo
Video 3: /watch?v=nw6my2X-57g
Video 4: /watch?v=PEHHTpIuBD4
Video 5: /watch?v=W1dnpBsptCg
If time permits, I will try to make some thread about this.
I began to study how to make an economic oscillator that would allow me to replicate these experiments, but without expensive instruments, it was there that I reached a couple of schemes that worked for me. But I didn't know where they came from, until recently.
It was there that I arrived at several sites and schemes that worked for different purposes, one of them was that of Akula, and that of Lasersaber, both used a transformer that eventually worked in resonance, worked with both schemes, worked, but when the power was disconnected , the LEDs went out in less than 1 second. For its simplicity, I spent working with the Lasersaber scheme, and arrived at the source of the scheme, and coincidentally with some modifications, it also worked for my power transmitter for 1 conductor.
The original Oscillator is called the Armstrong Oscillator (it may come even further behind than Tesla itself, but I don't know), and it is a small oscillator that oscillates by Magnetic coupling between its coils, the Original scheme is this: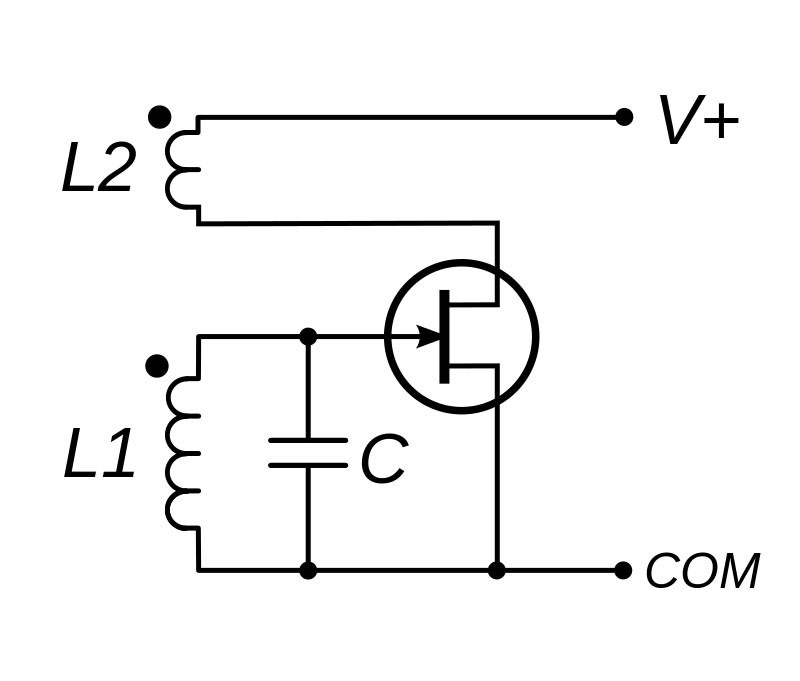 Where C, can be removed, if the coil has enough capacity between turns, to put it to work, here the Used Transistor is very important, it does not work with anyone.
If we observe the scheme of lasersaber SJR Looper V4.1: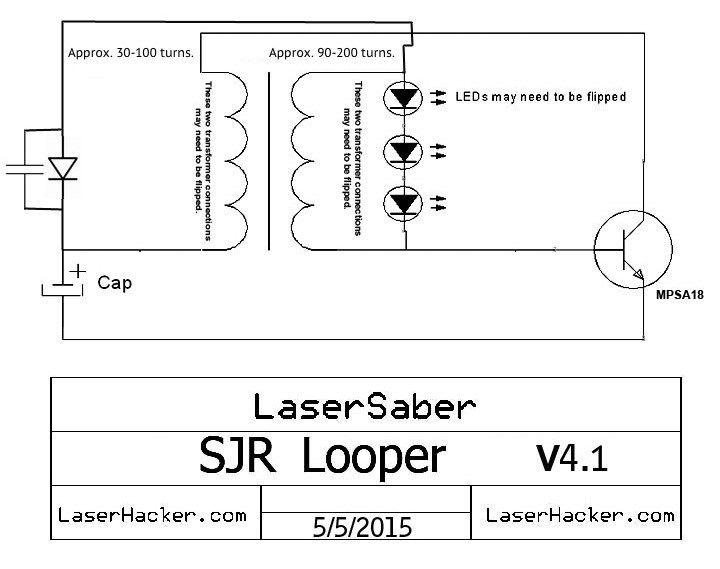 We see its similarity, with the Original scheme.
That also has something of the Joule Thief circuit, the big problem of the Joule Thief, is that it can work with little voltage, at the cost of a high current, and here the current is the great limitation to achieve autonomy without connection of the source of feeding.
Returning to the LaserSaber scheme, the transformer was not so simple to make, nor to tune, here we cannot adjust the frequency with an external capacitor or regulate the pulse frequency. So adjusting it becomes very difficult. It does not always work, and when I did it in my case, it consumed so much current, that it did not stay on after removing the power.
I spend a lot of time until it manages to operate the circuit fairly well, with almost any ferrite transformer that we can catch on any unused PC power supply.
And as you can see it works: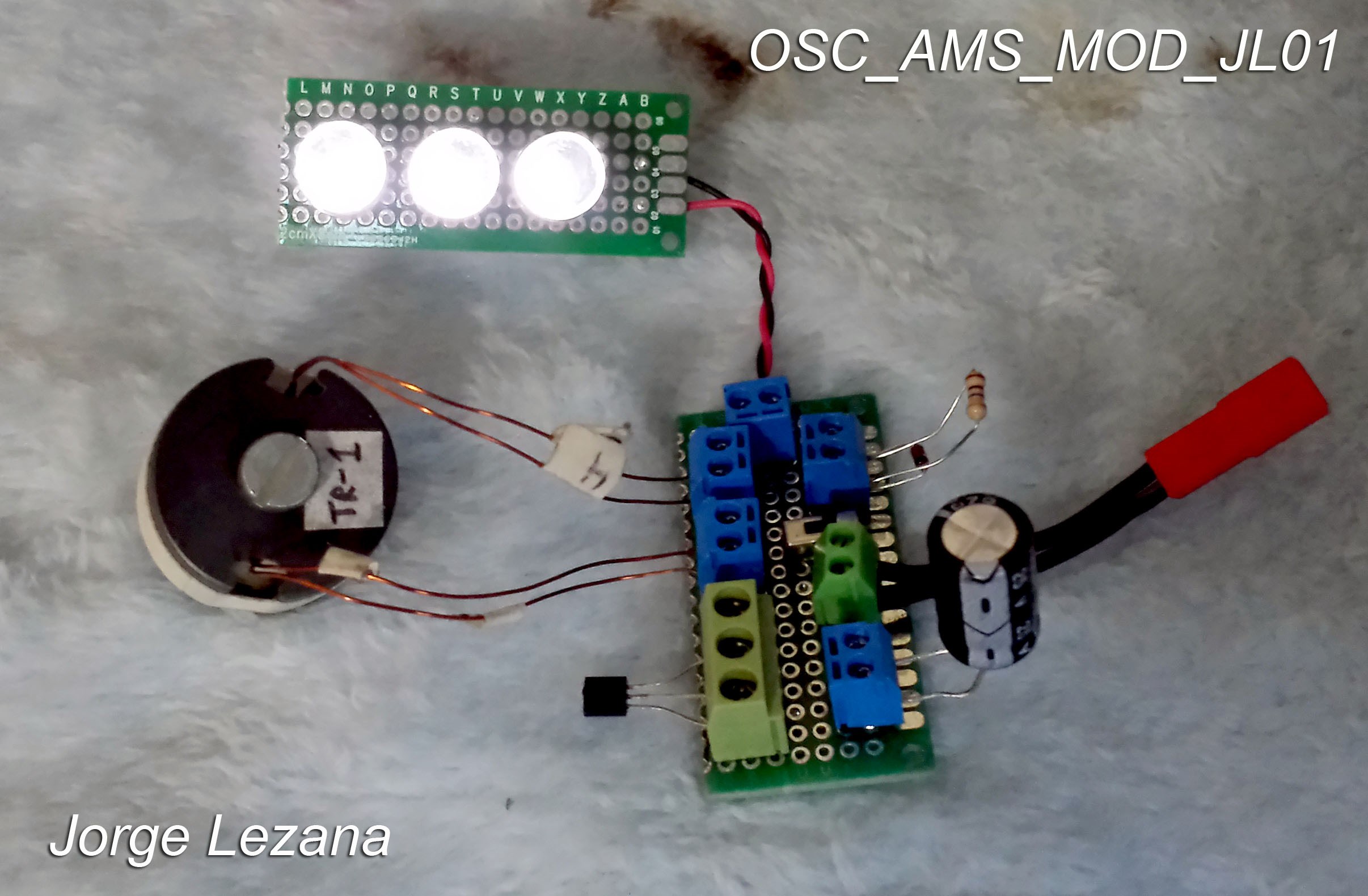 And the Video in a Test:
VIDEO:
The final scheme I work with is as follows: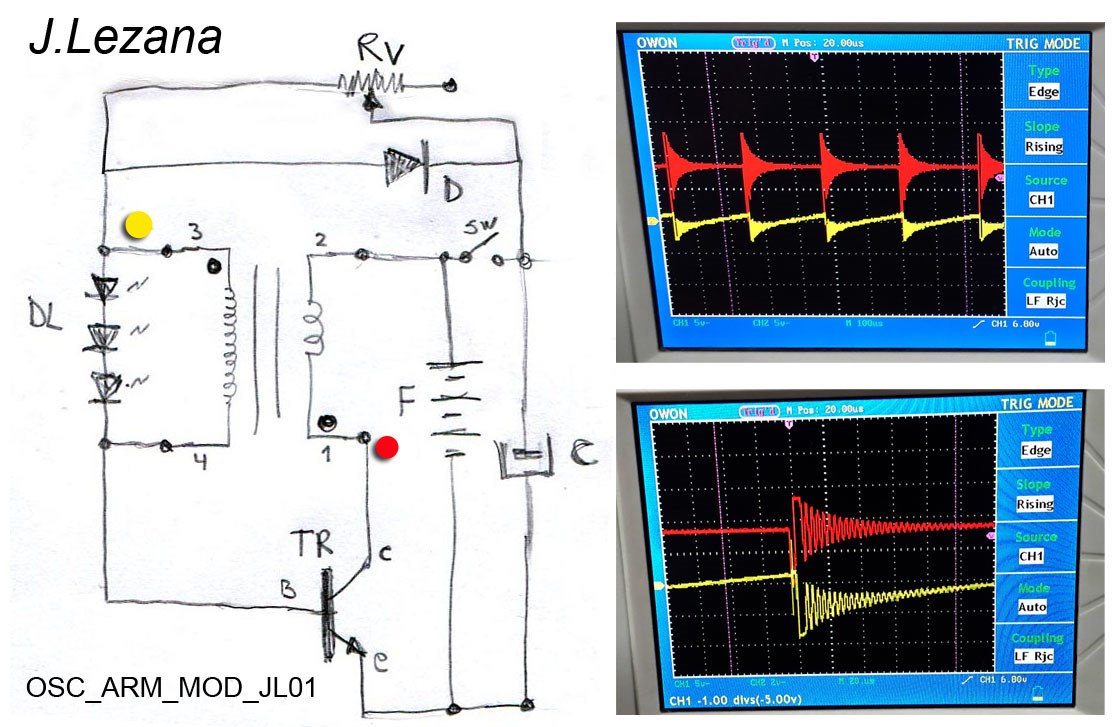 In it you can see a red and yellow point, where you can see the waveform at these points.
The detail of the elements is:
-TR: NPN 2n3904 Transistor I recommend buying several, and choosing the one with the highest HFE, over 300 ideal.
-C: 1000uF x 25V Electrolytic capacitor.
-D: Fast diode 1N4148
-DL: High Brightness Diodes between 2.8 and 3 Volt for a Working current of 10mA.
-RV: Variable Resistance between 1 - 30 Mega Ohm
This Resistance is important and must be found for each transformer that they make, it will allow to adjust the Working Current of the entire Circuit that Round between 50 and 120 uA and also make the LEDs turn on.
The transformer I use, they have a 1: 3 Turning Ratio I've used from thin and thick wire, they all work for me,
The one in the photo and video is about 20 laps in the Primary and about 50 in the Secondary, of the same wire gauge. (1 meter of wire in the primary and almost 3 meters in the secondary)
The muffled frequency in my circuit is approximately 300 KHZ and the Pulse is around 4.5KHz.
An important detail to expose here, is that the Fast Diode 1N4148, is not necessary at all, can work without it. In Tests I did I realized that at high voltages, there is no BFEM that can help maintain the charge on the capacitor, depending on the transistor, the BFEM appears at voltages below 4 Volts. I could verify this, with the Switch that I put between the source and the Condenser.
The idea of charging the capacitor at about 9 Volt. is to allow it to discharge slowly and reach the working limit voltage of about 2 Volt. If they load it with 3 Volt, it won't last long.
The current consumption of my Circuit is only 60 uA. At 9 Volt, with a 1000uF capacitor it gives me a time on of about 2 Minutes. While the LEDs look slightly on for much longer, the useful light I think is around 2 minutes.
At this point I have to make it clear that the LEDs are not at maximum brightness. The idea is to get the maximum brightness with the least amount of current in the input.
I encourage you to try this circuit and show your results.
In order for us to move forward, it is important to place your test data:
Power On Time:
Capacitor Charge Voltage:
Work Current:


I will keep an eye on any comments, and I hope that my translation from Spanish to English is understandable.

Greetings from distant lands ..
Jorge Lezana
Valdivia-Chile