This topic is to help measure AC Sinusoidal Power and be as accurate as possible.
First, this only works with Sinusoidal Wave forms, irregular or square wave forms are not measured this way, and if done so will not yield accurate results.
Measure Current using a Current Shunt, sometimes known as a Current Viewing Resistor (CVR) or more commonly known as a Current Sensing Resistor (CSR). This turns Current into a Voltage Wave Form, something we can see on the oscilloscope. A simple Circuit follows, where we measure the Current (I) that is in the Circuit, the Lamp will carry the same current we sense across the Resistor. This is Kirchhoff's Current Law, where all nodes in a Circuit must carry the same Current.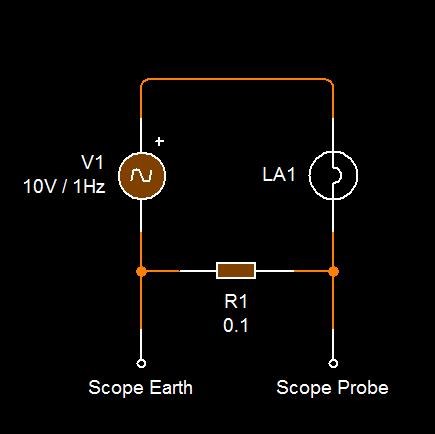 The value of the Current is determined by Ohms Law, where the Voltage across R1, this is the Voltage Drop, is V/R = I, Voltage / Resistance = Current.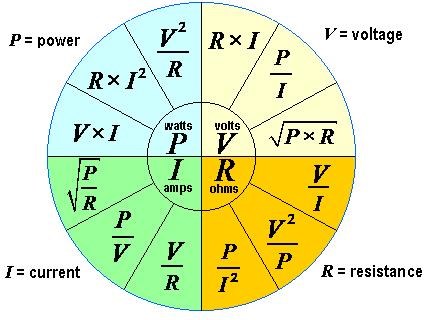 Example:
We measure a 0.1 Volt Drop across the Resistor R1.
Total input Voltage is 10 Volts.
The Resistance of R1 is 0.1 Ohms:
So, the Current in the Circuit is: 0.1 / 0.1 = 1 Ampere.
We have a Voltage Drop in our Resistor, and this is dissipated as Heat, so there is Power being used here, this can be calculated as: V2 / R = P so 0.12 / 0.1 = 0.1 Watts dissipated in the CSR
Thus, the Total Power in the load: 9.99 Watts
Steps:
Take Voltage Measurement, Use RMS Values from your Scope.
Take the Current Measurement, again use RMS Values from your Scope.
Measure the Phase Angle between the two Wave Forms. The following Video is a good resource:
Note: Some say you should use Mean Values. It is up to you, and may be worth comparing the two values. The RMS should work out to be the mean anyway, as this is the entire point of RMS, Root Mean Square, the RMS difference from Peak Values is the Mean.
Make sure you check your scope probes, make sure you account for the magnification, either 1x 10x or more.
The equation for calculating AC Sinusoidal Power is: V x I x Cos(Theta) where Theta is the Phase angle in Radians.
As a quick and easy resource, I have added an AC Power Calculator to my website: AC or Sinusoidal Power Calculator
By using this calculator, it makes for a quick easy painless measurement.
Note: My calculator takes Degrees and not Radians. Also, try to use Precision Sensing Resistors, they are very cheap, and worth the investment!
Hope this helps!
Chris