My Friends,
The importance of The Sawtooth Waveform may not be observed by others, but it must be realised for its importance if we are to understand its significance to Energy Machines! Today I posted this post:
Hi Ravio, My Friends,

This post is very Important! Please read and understand!

What you bring up has valid points!

You have 10% ON and 90% OFF in input. I have seen this power triangle explanation, but don't you think that in 10% you have already paid for what is happening in the rest of 90%?

In all conventional Transformers, Energy is Transformed, Input is Transformed to Magnetic Force to Output Force, the M.M.F, or Ampere turn is equal and opposite less losses. Input M.M.F is Equal and Opposite to the Output M.M.F less Losses! Any time you offset the M.M.F, force, then you have more work in the System.

This is the point of the Machine we build, to Offset the Input to Output M.M.F, to add M.M.F via the Third Coil!

Yes, it can be that these Waveform's can have Conventional Transformer Transformations, but we are not building a Conventional Transformer, that's the point of what we are doing.

Someone tested some Melnichenko patent (some LCR circuit) and figured out that 1/4 (quarter) pulsing was beautiful - looks like you have 3 rising waves during ON and the rest 10+ are at decline. Measuring input and output (on resistor R) - revealed that there was nothing there.

A great deal of experiments performed by others are invalid, until one understands the Subject matter and thus the foll operation of a machine, experiments can be completely inconclusive! I have done many experiments that I look back on and think to my self, there is no way that could have worked, I did not understand the machine, if the slightest deviation in the Experiment you are performing from the original experiment, then the experiment is wrong. So we really can not compare unless we have everything 100% Correct and can verify that.

The waveform you show, is not like any Andrey Melnichenko Experiment Waveform I have ever seen and thus can not comment on its validity or verification.

You have to measure input and output on resistive load, wave shape does not give you full info. Of course - wave shape shows you if you have ferro/wave/accousting/stochastic/whatever resonance.

I always use Resistive Loads, an Incandescent lamp is largely a Resistive Load, this means Power is real, Voltage and Current are in phase - Yes.

It is correct to ask questions! No one should believe what might be ramblings of a crazy person! I expect all members to question everything, after all that's our job, in Research, is to question everything, until we understand it, totally and fully!

The Sawtooth waveform can be both Below Unity and Above Unity! Some examples I have given here on this forum, Don Smith, The MEG Team, Graham Gunderson, Tinman aka Bradley Richard Atherton:

There we go, okay you see the L1 coil here, it's three inch but Baker Williamson coil. Its had the four turns taken out of the center here and they're made into a pigtail which forms the ground the negative ground out or the amperage end of the deal. On the ends here or there coming off and going out and coming through, this is a series of very high-voltage capacitors, that are normally found in, flyback transformer circuits and televisions, so we're into the very high voltage on those diodes, and basically what they're doing, is what the two diodes were doing in the other device, they're taking a Sawtooth Pattern and changing it into a flat pulsating DC.

The Sawtooth Waveform is the Defining Lenz's Law Waveform!

I pointed out in my thread: Some Coils Buck and some Coils DONT why the Sawtooth Waveform is so important:

The Sawtooth Waveform is the Result of Lenz's Law, the very fact that Two Magnetic Fields are working together! This Magnetic Field Interaction is CRITICAL to understand! It is the EXACT Same effect as dropping the Neo Magnet down the Copper Tube:

This is the reason the waveform has a Linear Decay, not an exponential decay! A Critical fact to observe and understand!

The Sawtooth Waveform is the Defining Waveform for Energy "Generation"!

Ref: Me, Chris
A Conventional Transformer has all its Input M.M.F Oppose the Output M.M.F, and the Output = Input - Output - Losses, a Symmetrical Machine, Always Below Unity!
We are building a machine: Output = Input M.M.F + Tertiary M.M.F - Secondary M.M.F - Losses. An Asymmetrical Machine!
So, simply, we are using a Third Coil to add Energy to the System, via Electromagnetic Induction, that is over and above the Input to Output Ratio seen in a Conventional Transformer: Input : Output = 85%
Above Unity comes from the Total interactions of Magnetic Fields and Conductors outside the Conventional Transformer Theory!
This means, the more Electromagnetic Induction occurs outside of our Input period, the better off we are as a whole. Above unity comes from the Asymmetrical Interactions in our machine!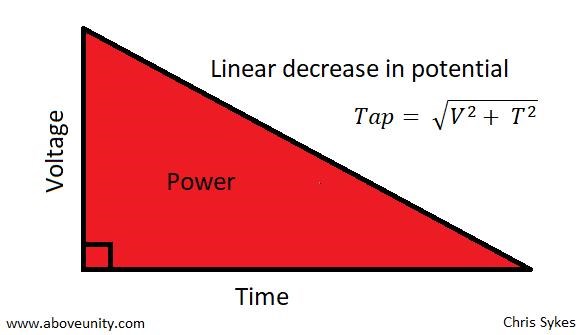 EXAMPLE:
We have $100 and we take it to the Bank. The bank charges us a fee to Bank the Money of 10%, so every time we bank money, we always end up with less money!
Today the Bank is really busy! We have to wait in line at the bank for 2 hours, we invoice the bank 20% of the $100 for our time in the queue. Now we have made 10%, so we have a gain, $110 in the bank for only the $100 we banked.
The Sawtooth Waveform is the direct Action, Reaction pair of Energy "Generation" is pointed out above, I have pointed this out in other places also. Realising others may not understand the significance, see the importance, I felt it needed its own Thread!
Best wishes,
Chris