My Friends,
We have focused on "Understanding" on this forum for a very long time! It is hard to Gain a proper Understanding!
Richard Feynman said: "Little steps for little feet". Its true! It takes a while for an understanding to be achieved! For this very reason, we must take things slow! Allow others to gain an understanding in their own time.
This all comes bask to Electromagnetic Induction! If one understands, well enough, Electromagnetic Induction, then gaining this Understanding is very much easier! Remember: All the greats before us, knew Electromagnetic Induction inside out!
I would like to point you to a thread, on one of the other forums, and if one were to take the time to read the posts here, one will see the immense lack of understanding Members have compared to Tinman: Coil Antics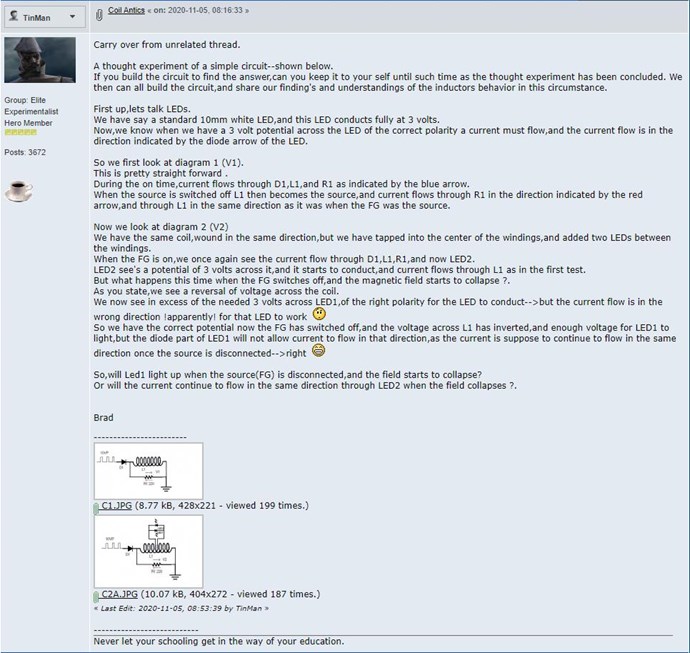 Some of the replies are not even close to the mark! Some replies really should not have ever been posted! One member, was Banned Here for causing trouble, just posts total non-sense, distracting the thread and just is of no help what so ever!
You can see, Tinman is trying to help these people! How much Help will he offer before he gives up because no one really learns anything or even remotely understands what he is trying to teach them? Tinman, reading between the lines, clearly does not feel comfortable with one of those members!
Recently, I bought to your attention Newtons Laws of Motion again: Action, Reaction and Counter-Reaction, in an attempt to remind you, of the Lack of Asymmetry in the publically accepted Science of Newtons Laws of Motion!
The easiest way to understand this technology is in the Form of Force and how Force can be Asymmetrical!
Best Wishes,
Chris
P.S: We have covered all of this information on this forum! Here: A Coil, the Current and the Voltage is part of it, as is Action, Reaction and Counter-Reaction and many other threads.