My Friends,
Today I want to discuss a topic covered many times, but rarely covered in this context: Self Powering
Akula's Circuits gave us a whole new perspective on the Power Arena! The following Circuit especially, is one of my favorites: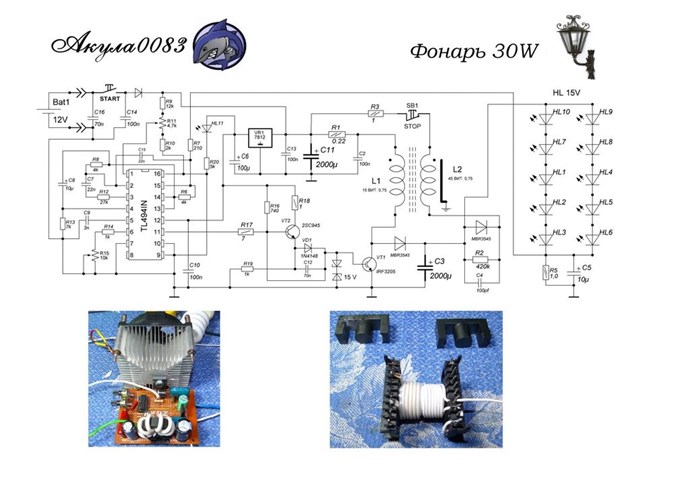 I never saw this circuit / device run. I wish I had the Video! However, Circuits following this Circuit are very much the same, most are in-fact the same, at least of the Lantern!
If you have a Video of this machine, please share it here?
There is a Feed Back and Feed Forward Loop in this circuit which is ingenious!
Remember: Its all about the Coils! How they Interact together!
L1 and L2 do exactly what we have learned in my thread: Chris's Non-Inductive Coil Experiment. Its important to realise this!
With a very short Duty Cycle on the Input, we have the ability to gain Energy over Time! We already know how to do this, if you don't, go back and study the fore mentioned thread.
When the Mosfet is On: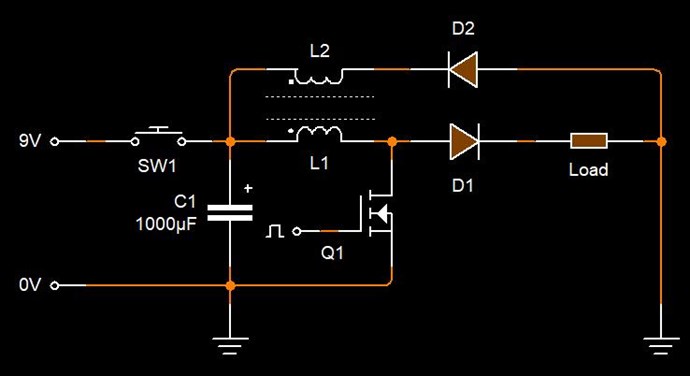 When the Mosfet is Off: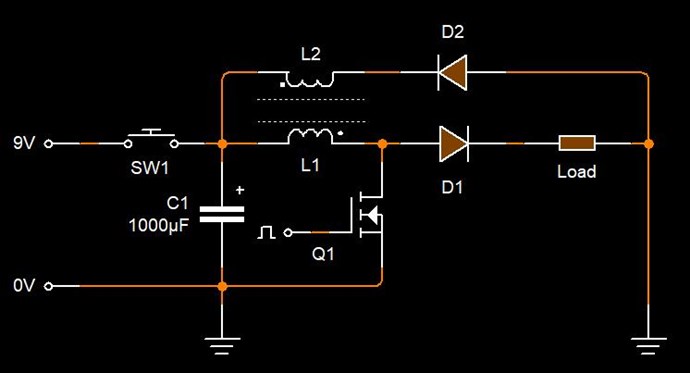 The only difference is the Dot Polarity. When the Mosfet turns off, the Current tries to continue on its path. I call this Inductive Collapse.
Note: Inductive Collapse by itself is not Above Unity!
However, when we have a Standing Wave, and when the Voltage, Potential, is greater, then we get Above Unity Results. The Capacitor C1 must always remain fully charged once we get this condition happening! The Ground is very important, closing the Loop if you like.
L2 Charges C1, and when we have Magnetic Resonance, feeds back through L1, to help Power the Load. I have greatly simplified this Circuit for the purpose to show you how to self Power a circuit like this.
L2's entire Voltage Potential is across C1!
L2 must gave a greater Voltage Potential on it so as to keep the Capacitor Charged!
NOTE: That's why the turns ratio: 15 : 45 or 33%, notice close to the 25, or 1/4 wave, is used. A dual Purpose.
C2 shown below is really just a Smoothing Cap, or containment vessel, reducing dangerous spikes.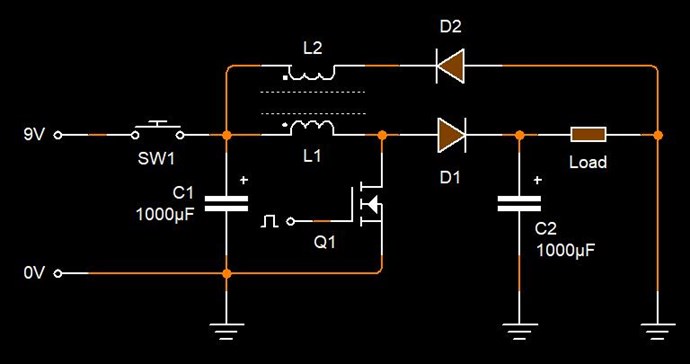 Of course, this is one of many ways! Ruslan showed us a very obvious method: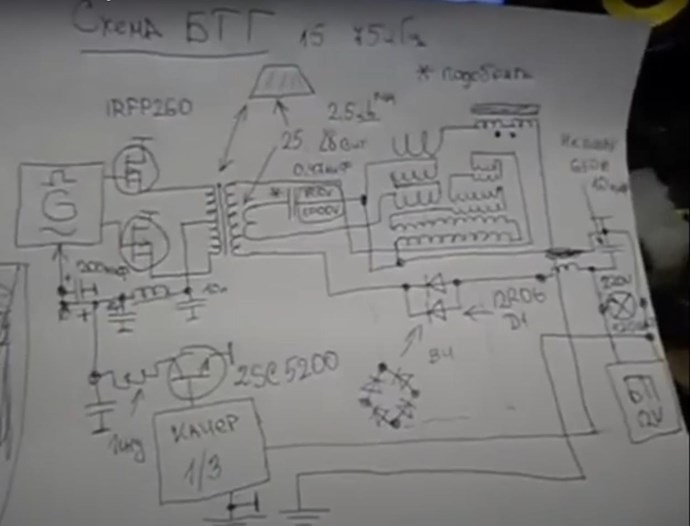 As you know, the rectangle marked as BTT12V powers the Machine.
Simply returning some of the Output, back to the Input Power Module. This is very obvious, and most of the time will work fine. Sometimes however, there can be Grounding problems, as soon as you attach your Output to Input, your Machine Stops working. This is something to be aware of.
Most of you already know this!
Best wishes, stay safe and well My Friends,
Chris
EDIT: Don't forget, Energy is sent back through your Input, to charge your Source, Battery or Capacitor. So Self Powering means, only a small amount of energy send back, or Fed Back to keep the machine working.