In this thread I will start going over just how complex this water for fuel technology actually is for it is anything but simple. So, lets start from the beginning, "Understanding the earth's Global Electric Circuit."
As far as the scientific community goes they are only now starting to actually look at how the earth's Global Electric Circuit actually works, but they are doing so in a way that will not allow them to see the whole picture being they are far too compartmentalized.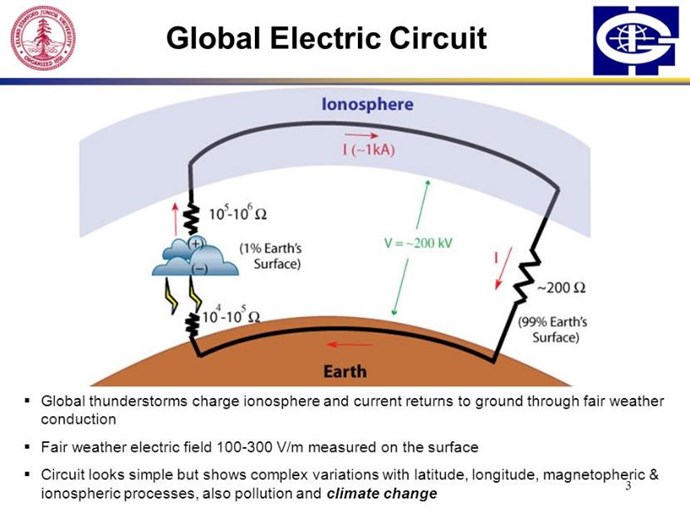 Thunderstorms are earth's means to keep the air we all breath clean as when the conditions are right they breakdown Methane, Carbon dioxide, Carbon monoxide, NOx gases, and any molecule that happens to find it's way inside of these storms when they are highly active to include water molecules.
When it breaks down the water molecules it does so at near the bottom of the cloud the hydrogen then floats up to the top of the cloud and most of the time gets ignited which you hear and feel on the ground as thunder. It does this by way of Ionization as that is the key to breaking down molecules efficiently. When water is broken down into it basic elements like this it produces three things, hydrogen & oxygen gas, and electricity. This results in a run away reaction in the cloud system and lightning discharges begin to happen as the charge build up exceeds the electrical resistance of the air.
The electric field building beneath a thundercloud eventually has enough energy to break apart, excite and ionize nitrogen, oxygen, and water molecules. Nitrogen atoms by themselves are highly reactive. They will quickly recombine into nitrogen (N2) gas or into nitrous oxide (NO). Meanwhile, excited nitrogen molecules emit blue light. Oxygen molecules likewise are excited. They may also release photons of light, but more often they react with unexcited oxygen molecules to create ozone, before they have a chance to. This ozone, which only lasts about an hour before it decays back into molecular oxygen, is often linked with the fresh clean smell after a thunderstorm (and yes it is a contributor to damaging ground level ozone worldwide). The air under a thunderstorm is very humid. Ionized hydrogen atoms split apart from from water vapor contribute red to the glow, so that ionized humid air glows violet.
This is how mother nature (our creator) breaks down molecules for as I noted it will break down any molecule that gets in them when the conditions are right for it to do so. This is what Dr. Dingle and Meyer mimicked to get their cars to run with only water in their tanks for fuel. Now Meyer showed this diagram of his Voltage Intensifier Circuit.
Note you are actually looking at how to go about mimicking the earth's Global Electric Circuit electronically. Things to note up front that are very important is, this is an isolated circuit and it must remain that way. If you put a ground source in the water it will not be able to build a charge on the plates of the capacitor effectively. Do not stick your finger in the water when it is building up a charge. And lastly in order to read the voltage on a oscilloscope you will have to get a differential probe: https://www.globalmediapro.com/dc/CKG7/Test-and-Measurement/Test-Probes/Differential-Probes/?brandId=29 I have three such probes so that I can read the voltages in different spots to see what is going on.
Now in knowing this is an isolate circuit more than likely Meyer never got his injectors to work as it wouldn't be able to build up a charge with the drawings he shown as it was in direct contact with the engine. But, unknowingly to Meyer it still would work from time to time and this was due to his Gas Processor. The Gas Processor would alter the incoming air supply to one that was suitable for the combustion of water. Unlike a thunderstorm the Gas Processor will not allow the excited oxygen atoms to combine with oxygen molecules as there would be none for it to combine with. Thus in the presence of fine water droplets/vapor a spark would be all that was needed to cause a oxygen replacement reaction where the unstable oxygen atoms would replace the stable oxygen atoms in the water molecules. The goal of this device is to strip up to 4-5 electrons away from the oxygen atoms from the incoming air supply and yes it too is a isolated circuit. So, don't put one of these on your engine if you have a MAP sensor or something else measuring the air coming into the engine.
Just like the Voltage Intensifier Circuit for water where water becomes a physical part of the circuit with the Gas Processor the air becomes apart of the circuit. To target the oxygen atoms you must use coherent light at the right wavelengths that will be absorbed by the oxygen molecules and excited oxygen atoms. This is the Gas Processor I made: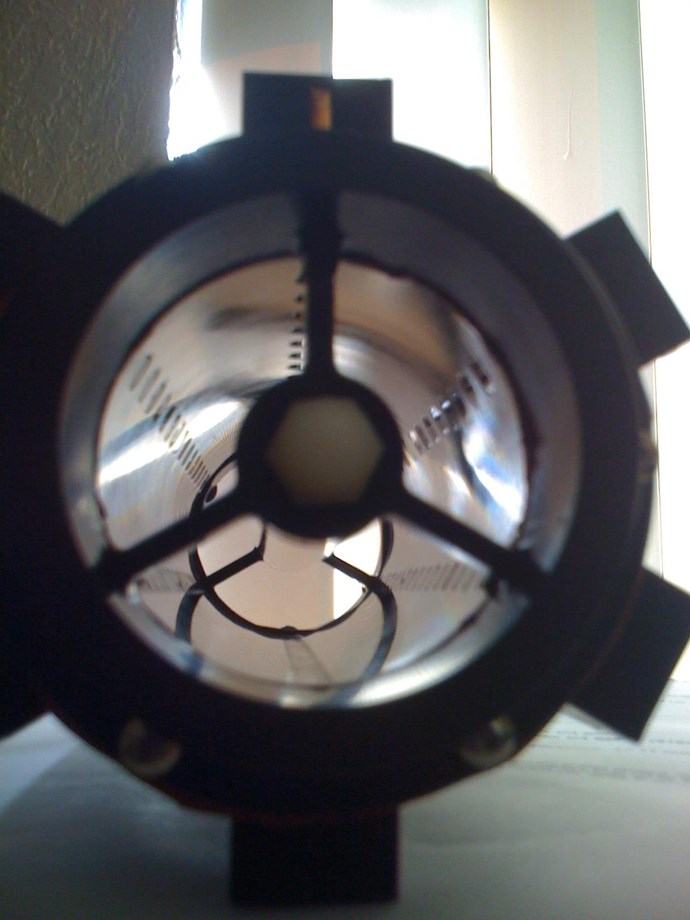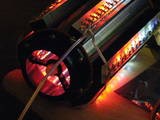 There are only three of these in the world right now as the machinist that made these for us had a minimum make and I teamed up with a few others to have it made.
It took me a while to learn just how to hook the darn thing up and I ended up damaging my eyes because I didn't wear eye protection so be careful. Interestingly this device is why I created a company as back then when I had it made the company that sold the proper wavelength LEDs didn't sell them to the general public but only to companies so I created a company just so I could get these LEDs.
So, how did I learn these are isolated circuits that must remain that way? I had a circulation pump on one of my WFC's and the pump burned out and I couldn't figure out why it burned out so I got another one and it too burned out. Just by chance I ran the experiments with the pump completely disconnected and noticed the negative voltage on the scope was much higher. I put a third pump on and checked it before turning on the VIC for conductivity in the water and sure enough there was a electrical connection from the pump to the water bath. So, I got a very specific type of pump that had no electrical connection to the water a solenoid pump. I also had a problem with the Gas Processor that shorted out the power supply and tripped the home breaker but at that time I didn't make the connection that it needed to be an isolated circuit and quit working on the device as it was quite spectacular when it shorted everything out to say the least.
Once I learned this I instantly knew that Meyer's Injectors never worked as they were designed for they grounded out to the car's battery. In order to get them working correctly the injectors have to made in a way that keeps them isolated from the car's electrical system. I know Meyer more than likely would have figured this out but due to his untimely death he was never given a chance to solve that problem.
Now that all of you can see the connection to this method of water dissociation you can apply this theory I came up with all on my own to understanding this outside of this technology.
"All Molecules can be separated into their component atoms by taking away the electrons from the atoms that make up the molecules."
This is the scientific connection that goes outside of the boundaries of this technology. Note to would be thieves I have already published this so don't try and claim this theory as your own!
For those that wish to aid my efforts to bring this technology to market you can do so here: https://www.gofundme.com/f/energy-independence-for-you-and-me